When there is strength in numbers…
The Chianti region is one of the most appreciated areas in Tuscany, well known throughout the world for the beauty of its landscapes and its high quality wine:  one of the oldest we have..
For centuries many noble families of the Chianti area – who shaped Tuscan but also Italian history – have been producing wine. Despite the prestige of these old family names, none of them has the right to bear the title of "largest Chianti wine producer".
Who is the largest Chianti wine producer, then?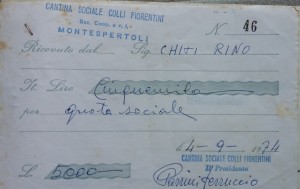 The Cantina Sociale Colli Fiorentini and its 40-year long history
Our guided tour will take you inside this extraordinary winemaking reality started 40 years ago when a few small winemakers, formerly sharecroppers, decided to work together. Among them our grandfather Rino who decided, with great foresight, to invest 5,000 old liras to establish the Cantina Sociale Colli Fiorentini.
40 years have passed now and our grandfather and his partners' dream has become a great and solid reality, capable of overcoming every crisis. With its 850 members – mostly small and medium-sized companies – the Cantina Sociale Colli Fiorentini has become the most important Chianti wine producer of the world.
1,500 hectares of vineyards, 8,000,000 kg of grapes
With its 850 members the Cantina Sociale Colli Fiorentini controls approximately 1,500 acres of vineyards that can produce 8,000,000 kg of grapes, turned into
wine following traditional methods and using the most advanced technologies, which are the result of substantial investments that in recent years have reached the peak of 10 million euros (yes, you did not misread!). With its own grapes the Cantina Sociale produces 190,000 hectolitres of wine, both Chianti and Chianti Classico.
You might ask yourselves: how is it possible to manage such a huge volume of grapes? How is their work organized? What are the technologies used for the winemaking? How do they check the grape quality produced by each member?
No problem: our guided tour will answer to all your questions!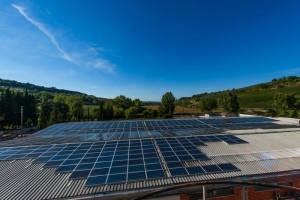 "We produce good wine with the right energy …"
This could be the Cantina Sociale's motto because the environment is one of their main priorities: the Cantina Sociale Colli Fiorentini is the first Tuscan cooperative to have installed a photovoltaic system, a unique plant that produce and use clean energy.
The perfect ending to our guided tour, after visiting all the production areas, will be some wine tasting: the Cantina Sociale's Chianti and Chianti Classico, but also its excellent ITG red wines, white, sparkling and rosé wines, alongside its Grappas, a very unique Vinsanto made pressing the Trebbiano Toscano and the Malvasia del Chainti, made from grapes dried on mats.
The Cantina Sociale Valvirginio is a splendid and unique reality to visit and proudly show to our sons, our grandchildren and to all the people who love and cherish the beauty and traditions of TRUE Tuscany.
This itinerary can be combined to the following guided tours: "Discovering the Tuscan extravirgin olive oil";   San Gimignano, Colle di Val d'Elsa, Poggibonsi, Monteriggioni,  San Vivaldo, San Galgano Abbey, San Miniato al Tedesco.